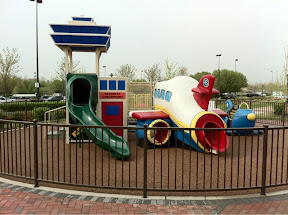 There is something about a playground that brings out the best in every kid. It could be in Paris, coastal Italy, rural Germany, or even suburban Washington and you'll notice EVERYONE gets along. I have not been to a playground yet in my travels where kids were screaming at each other, throwing rocks, or shouting political slogans. Somewhere along the way in the course of growing up we have lost our sense of unity.
Playgrounds are different in different places but they all have one thing in common, kids having fun. My boys have been on playgrounds seemingly all over the world and not once did any child look at them like they were some sort of alien. Sure there is a language barrier but it doesn't take much to play chase. I remember being along the Mosel River in Germany and we stopped at a playground that had a zip line and some climbing stuff that we hadn't seen before in the states. Tyler was all of three at the time and lo and behold there was a German girl who wanted to play with him. She didn't ask him for his nationality or religious affiliation, in fact she didn't even speak english and all she wanted to do was play. It was the same thing in Paris, no one cared where we were from, they just wanted someone to run around with. We made a point on a trip to Italy to find "altalenes" and "scivolos". If you want to find the heart and soul of a country, go straight to the swings and the slides. There is nobody there that will look down on you or discriminate based on where you are from.
I am reminded about all of this as I sit at a playground in Ashburn, Virginia, nobody there knows where we are from. New Jersey might as well be China for all these kids know, and all they want to do is play. I think the worlds problems can be solved at the playground. Bring all the worlds leaders together and stick them there, let them chase each other down the slide and push each other on the swings, let them take a lesson from a kid. The worlds problems might be pushed aside for only a moment, but what a moment that would be.
John Willey - Daddy's in Charge?
________________________________________