OK moms I have officially had it with you. You think you are so cool with your little heart shaped pancakes and your ability to match your kids socks. Well I am here to say that you are not all that you are cracked up to be. A recent Dadlogic study found that a full 93% of stay at home moms do the weekly grocery shopping. What the lazy other 7% are doing I have no idea, but I will tell you I thank them for staying home.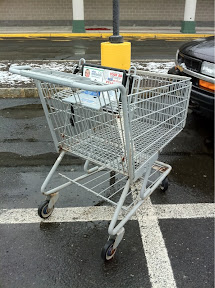 It was raining today and that only makes it worse. Someone has to gather all these carts up and it certainly is not a mom. I know that you are in a hurry to get home and watch The View and bake a pie, but next time you are at the store do us all a favor and instead of buying that shamrock shaped sandwich cutter, take that time to get your cart out of the way.
John Willey - Daddy's in Charge?
________________________________________