*SPOILER ALERT*
If your name is Tyler and you happen to be my son, please stop reading right now. Also if you are my nine year old nephew Dylan you best cover your eyes, I don't know what you believe in anymore.

Let me start by saying that I am a big Santa fan. If my kids believed in Santa Claus their entire lives I would be a happy man. They might get picked on a little bit in college, but who cares, there is something sweet and innocent about a child and Santa Claus.
The Tooth Fairy not so much.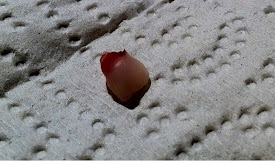 Yeah thats a tooth, disgusting I know
Tyler lost another tooth tonight, his third. And so we expect the ATM with wings to be making an appearance in our house tonight. The idea of a woman breaking into your house in the middle of the night and stealing teeth just seems odd. Sure she leaves behind some cool cash, but what the hell is she doing with all of these teeth? Is she making little kid dentures somewhere? My kids are totally going to catch on to this ruse.
Here is my fear. The existence of the tooth fairy is going to destroy Christmas. There are only so many lies that we can tell our kids, and if we keep up the story of the tooth fairy, they are bound to catch on to all of them. Why did we start this?
The Eastern Bunny is the same way.
How much longer can we keep this up?
Come on. A giant bunny hops around our backyard leaving eggs filled with candy. I don't know how much longer I can keep that up. My boy is pretty damn smart, a bunny traveling the world leaving treat for everyone is something he is surely going to catch onto.
Christmas is different. There is something magical that happens Christmas morning that we as parents wish we could make last forever. The whole idea of it is crazy, a fat man dressed in red flying through the sky with his reindeer, giving presents to every girl and boy. It really is nonsense but it's cute, I just don't know how much longer its going to last.
I hope forever.


But I know it's not going to be the case. These idiots like the Tooth Fairy and the Easter Bunny are going to ruin it. They are going to slip up one of these years and someone is going to find out the truth about them. Will the boys upon knowing about Miss Toothy realize all of it's a hoax?
I wish she never existed, for the sake of Santa.
Are we prepared for the magic to end?
John Willey - Daddy's in Charge?
________________________________________